Terry White, former executive director of Brethren Missionary Herald Co., was recently honored for his contributions to journalism. He served the organization from 2009–2012 and had a significant impact on the organization. He has also been involved in various other Charis Fellowship ministries. Read more about his impact at BMH in an archive post here. Below is an article from the Evangelical Press Association that recently honored Terry with by establishing the Terry White Lifetime Achievement Award.
At the recent annual convention for the Evangelical Press Association in Lancaster, Pa., Executive Director Lamar Keener announced a new award to be given out periodically by the EPA Board to recognize those who, during their lifetime, have made exceptional contributions to the field of Christian journalism and to EPA.
The Terry White Lifetime Achievement Award has been established in honor of long-time EPA member Terry White who was in attendance for his 50th convention in the past 55 years. Terry's impact on EPA is without precedent, and there is good reason for him to be dubbed "Mr. EPA."
From attending his first convention in 1968 to his current role as a member of the Legacy Council, Terry has participated in countless ways of service to EPA: multiple terms as a member of the board of directors including EPA president, convention chair, scholarship committee chair, ethics committee chair, awards committee chair, contest judge, workshop presenter, convention photographer, and music leader. He started the Twin Cities Christian newspaper. He's been the editor of Prison Fellowship's Inside Journal and a major part of GraceConnect and Brethren Missionary Herald.
He was a legend already 21 years ago when, in 2002, Terry received EPA's Joseph Bayly Award for Outstanding Service, EPA's highest honor at that time.
In 2015, Terry was granted lifetime honorary membership in EPA, and he was named to the EPA Legacy Council, an honor for past presidents who go on to serve in an advisory and mentoring capacity.
"Here we are in 2023, 55 years after his first convention in Minneapolis," said Lamar, "and it is time for EPA to recognize Terry White for what will now become EPA's highest honor. We are not just giving Terry another award—we are naming the award after him."
In recognition of his exceptional contribution to the field of Christian journalism and, specifically, to EPA, the Evangelical Press Association established The Terry White Lifetime Achievement Award.
Following the announcement of the new award, Lamar announced the first two recipients of the award: Joyce K. Ellis and Sharon Mumper.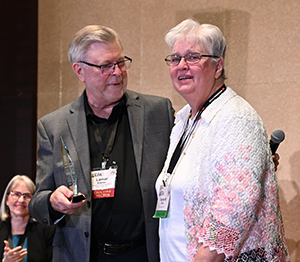 Joyce Ellis has been writing and editing for more than fifty years. She has published hundreds of articles and 18 books, including the humorous grammar book, Write with Excellence 201. She is the former assistant editor of two EPA publications. As a freelancer, she has written for many of our publications, and she has attended EPA conventions over five decades and has served on convention planning committees and as a presenter.
Sharon Mumper was recognized for founding Magazine Training International in 1989, an outreach to magazine publishers in less-resourced countries. Since then, more than 1,000 magazine staff from some 70 countries have attended onsite conferences in dozens of countries within Eastern Europe, Southeast Asia and Africa. Hundreds have attended or later viewed nearly 50 online courses and workshops. E-books, DVD courses, training videos, course manuals, textbooks, and other published materials have been made available to those publishing around the world. EPA editors often served as volunteer trainers at their own expense in these international training programs.
"Congratulations to Terry, Joyce, and Sharon for this much deserved recognition," said Lamar in conclusion of the presentation.
A version of this article originally appeared in a post from Evangelical Press Association. See the original article here.